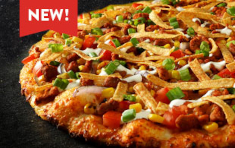 $24.99 Lg Street Taco Pizza
New Street Taco Pizza! Topped with new bold flavors - chorizo sausage, charred corn, red onions, tomatoes, crispy tortilla strips, crema, green onions all on our three cheese blend with mild salsa roja sauce. Served with lime wedges.
Price : $24.99
ADD & CUSTOMIZE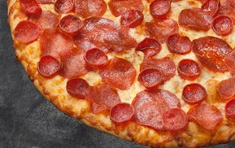 $19.99 Large Double Play Pepperoni
Two Kinds of Pepperoni, All Kinds of Flavor! Large Pizza with Classic pepperoni, and Mini Pepperoni on zesty red sauce.
Price : $19.99
ADD & CUSTOMIZE